November 15, 2017
Ten of The Strongest People in History

There are many different factors that I've considered whilst compiling this list such as;
Weight lifted, variation of lifts, verification, available training methods, availability (and use) of PED's, bodyweight and excellence in a particular area / lift.
Some may disagree and will be looking for names such as Bill Kazmaier, Žydrūnas Savickas or Mariusz Pudzianowski. This list is only personal opinion, and I have my reasons for not including them – I believe the people on this list to be the strongest in their field.
So let's get started…
10. Ray Williams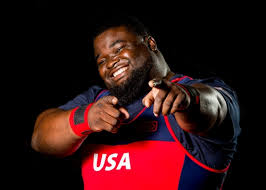 Ray Williams won't need much of an introduction to most who are reading this – One of the strongest (if not the strongest) powerlifter ever, Williams was the first person to squat over 1000lbs (454.5kg) in IPF competition – no squat suit, no knee wraps.
Born in Demopolis, Alabama, growing up Ray took on a journey participating in athletics, particularly, American football. The sport kept him out of trouble; In middle school, he became notorious for being a troublemaker with constant referrals for his negative behaviour.
He first started lifting weights to pursue his dream of playing American football in the NFL and tried out for two teams. It didn't work out however, and he eventually got into powerlifting after his brother competed in a competition.
As you would expect, Williams trains very hard, and has his own routine – different to a lot of others as he likes to focus on lower weight and technique. He has stated that the reason he pushes himself so much in the gym and in competition is due to his daughter. In 2011 she sadly died as she was born prematurely.
Williams made history earlier this year at the Arnold Classic in Columbus, OH when he squatted a hugh 477.5kg (1,053lb) raw. The event, which took place on March 2nd – 5th, saw lots of impressive feats of strength, but Williams stood out with his record-breaking squat.
https://youtu.be/I5bMH4Qeepw
As strong as Williams is, he has only demonstrated strength in the three power lifts. Even though he is (in my opinion) the greatest squatter ever, I sadly cannot rank him any higher on this list.
9. Kirill Sarychev
Born 1st January 1989 in Pugachev, Russia. He stands 6'6, 165-175kg (364-386lbs / 26-27.6 stone) bodyweight.
Sarychev holds the World Record for raw bench press at 335kg (738.5lbs), and has done 290kg (638lbs) for four reps, and 252.5kg (555.6lbs) for nine.
He is the current president of the World Raw Powerlifting Federation (WRPF), and began powerlifting at age 15 under coach Victor Nikolaevich.
The first time Sarychev broke the 300kg (660lbs) barrier on bench press was in 2010 at the first ever Battle of Champions in Arkhangeisk. The event featured two divisions without equipment – bench press and deadlift. Deadlift placement was determined by the Glossbrenner formula, and Sarychev placed 5th, having deadlifted 320kg (704lbs). In the bench press, Sarychev placed 1st – having benched 300kg (660lbs). after this, Sarychev changed his training to accentuate his bench press, instead of the three lift.
At the 2014 Battle of Champions competition, Sarychev bench pressed 326kg (717lbs), passing the lift of 324.5kg (714lbs) by Scott Mendleson (2005). Sarychev was now second in the world only to Eric Spoto, who's World Record was 1.5kg (3.3lbs) heavier.
In 2015, at the SN PRO Cup of Bench Press and Deadlift, Sarychev benched 330kg (726lbs) on his second attempt – taking the World Record by 2.5kg. On the third attempt he raised it even further with a 335kg (737lbs) lift. His bodyweight at this competition was 172.9kg (380lbs).
8. Yury Belkin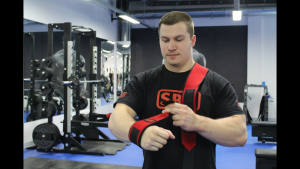 Born in 1990, in Arkhangel, Oblast, Russia Yury Belkin now lives in Saint Petersburg, Russia and will be known by most who read this to be a deadlift specialist. This is how I know him, and as a World Record holder, that's not unexpected.
Belkin recently wrapped up competing at the World Raw Powerlifting Federation's (WRPF) World Championships that were held in Moscow, Russia from October 24th – 29th 2017.
Last year, Belkin made a splash with his epic 420kg (925lb) beltless deadlift, while weighing in at a mere 103kg (226.5lbs). This year, Belkin weighed in at 103kg again, and has raised the stakes even higher after deadlifting 440kg (968 lb) for a new all-time world record in the 242lb (110kg) weight class… Beltless & hook grip.
What's even more crazy is that this was only Belkin's second attempt, and he closely missed a historic 461kg (1,016 lb) third attempt.
To round off the meet, Belkin finished first for his class and completed a 390kg (858lb) squat, a 225kg (495lb) bench, and of course the 440kg deadlift, which earned him a total of 1,055kg (2,321lbs). This total also awarded Belkin the 242lb (110kg) total all time World Record. Totalling over 1,000kg at a bodyweight of 103kg (almost 10 x bodyweight) is just phenomenal, and earns him a place on this list.
Regarding the deadlift World Record however, watch this space, as Cailer Woolam recently pulled 426kg (938lbs) for a lifetime PB, Woolam has said he's aiming for the 242lb deadlift World Record at the SPF Reebok Record Breakers meet in mid November 2017.
Although these lifts have been very well documented, and obviously can be verified 100%, Belkins strength seems to be limited (in any sort of public domain anyway) to these three powerlifts. As incredible as this strength is, I cannot list him any higher up this list.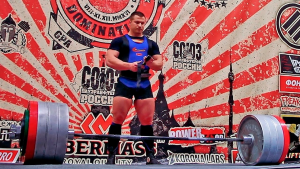 These are Belkin's three top lifts from the World Raw Powerlifting Federation's (WRPF) World Championships, Moscow this year:
7. Joseph Pina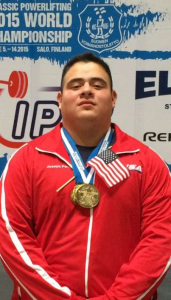 There's an old saying about weightlifting/powerlifting: "No matter how strong you are, there's a high school kid warming up with your max."
Well, meet Joseph Pena. Born in 1998 Pena was this year a senior at Holy Cross high school in Abilene, Texas. A varsity (American) football player, Pena last year, recorded an IPF world sub-junior and junior super heavyweight record with a mammoth 805.8lb (366.6kg) raw squat at the World Powerlifting Championships in Texas, besting the 804lb (365.5kg) junior record set by Andy Askow.
Peña was the youngest man to ever even attempt the lift, though the squat was met with controversy on the day of the meet.
Two judges red flagged it; one because his fingers weren't completely wrapped around the bar and another because he believed that the squat didn't hit full depth. You can check out the squat and the ensuing debate below — ultimately, the objection over his finger position was upheld and the squat was officially counted as a world record.
He's such a force in powerlifting that his school's powerlifting team was reportedly built in response to his talent. But he's also a star football player, cutting back on his lifting during football season and having said in the past that he was exploring a college football scholarship.
Pena has always been big, both in talent and sheer size; The average height and weight for a 14 year old boy in the United States is 5ft 5in, 112lbs (51kg) – according to the World Health Organization. It was at this age that Joseph Peña realized he was not an average 14 year old. Not just because he obliterated growth charts, standing 5ft 9in and weighing 285lbs (129.5kg); but because he could squat five times the body weight of an average 14 year old.
"I realized I could be really strong when I squatted 600 pounds at 14," said the then-18-year-old senior at Holy Cross High School in San Antonio.
He notes the 600lb (272.5kg) squat and his first national headlines in 2014 as a 15 year old as watershed moments. That's when video of him squatting 727lb (330.5kg) at the 2014 USA Powerlifting Association Raw Nationals in Aurora, Colorado, made rounds on the internet.
Last April, his flirtation with the revered 1,000lb (454.5kg) mark became real at the THSPA State Championships in Abilene, Texas, when he once again caught the attention of national media. He stunned the crowd with a 930lb (422.7kg) equipped squat:
In March 2017 the Texas High School Power Association held their annual Boys State Meet. Pena was in attendance competing in the Division II category in the super heavyweight (SHW) class. He squatted what would have been an IPF equipped (single-ply) sub-junior World Record of 465kg (1,025lb) squat. It cannot be classed as an official World Record as it was not done at an IPF international competition. You can see the lift here:
Back in March we were only three months into 2017 and Pena's performances had all been increasingly more epic. He'd competed in seven meets since the start of 2017 for the THSPA, and with every meet his numbers continued to rise.
His bench press and deadlift had each increased around 40-65lbs (18-29.5kg) respectively (in competition), while his squat had sky rocketed. On January 12th, Pena squatted 800lbs (363.6kg) at the TSS-UTSA meet and totaled 1,820lbs (827.3kg). By March we were seeing him squat 1,025lbs (465kg), or 225lbs (102.3kg) more less than three months later!
Pena has a bright future, and may well challenge Ray Williams at the top level or powerlifting very soon. He may also end up with the legendary status of some of the others on this list – only time will tell.
6. Mark Henry
Anyone who's into their strength sports will (or should) know Mark Henry. Henry could be considered the strongest allround strength competitor, being a world class powerlifter, Olympic weight lifter, and even winning the first Arnold classic strongman competition in 2002, beating a lot of the 'Worlds Strongest Man' competitors.
To put this into context; In 1996, Henry was the US National Powerlifting champion, whilst also representing the USA at the Atlanta Olympics as a weightlifter. No one else in history has been at the top of both these sports at the same time.
Henry was also the first man to cleanly lift the infamous 172-plus lb (78.1kg) Thomas Inch Dumbbell over his head. This specific dumbbell is so hard to handle because the diameter of the handle is almost two and a half inches thick.
After his careers in powerlifting and weightlifting, Henry then joined the WWE and is thought of by most to be the strongest man ever to compete at the WWE. At one point during the WWE, one particular night; Batista and Rey Mysterio vs MNM (Johnny Nitro/John Morrison and Joey Mercury) in a cage match. Mark Henry was supposed to break the locked door open to interfere and help MNM win. The ring crew were supposed to set up a 'gimmick' cage door, enabling Henry to gain access. They didn't. It took 40 seconds, as it seemed like time stood still in the ring, but Henry legitimately broke the solid steel chain that was holding the door closed, in front of an audience of thousands.
Born June 12th 1971, Like Pena, Mark Henry was big growing up. By the time he was in the fourth grade (year 5 / 9-10 years old), he was 5ft 5in and weighed 225 lb (102 kg). His mother bought a set of weights for him when he was 10 years old, and during Henry's freshman year at Silsbee High School, he was already able to squat 600 lb (272.5 kg), which was well over the school record. As an 18 year old high school senior, Henry was called "The world's strongest teenager" by the Los Angeles Times, and made it into the headlines in early 1990 for winning the National High School Powerlifting Championships and setting teenage lifting world records in the squat 832 lb (377 kg) and total 2,033 lb (922 kg). By the time Henry finished high school, he was a three-time Texas state champion with state and national records in all four powerlifting categories—the squat at 832 lb (378.1 kg), bench press at 525 lb (238.6 kg) and deadlift at 815 lb (370.5 kg) as well as the total at 2,033 lb (924.1 kg).
In July 1990 at the USPF Senior National Powerlifting Championships, 19-year-old Henry came second only to the legendary six-time World Powerlifting Champion Kirk Karwoski.
At the age of 19, Henry had already managed to qualify for the weightlifting competition at the 1992 Summer Olympics, where he finished tenth in the Super- Heavyweight class. Only ten months before the 1992 Olympics, Henry had begun training with Dragomir Cioroslan, a bronze medalist at the 1984 Summer Olympics, who said that he had "never seen anyone with Mark's raw talent". After the Olympics, Henry became more determined to focus on weightlifting and began competing all over the world. In late 1992 he won the USA Weightlifting American Open, and further proved his dominance on the American soil by winning not only the U.S. National Weightlifting Championships, but also the U.S. Olympic Festival Championships in 1993 and 1994. At the 1995 Pan American Games Henry won a gold, silver and bronze medal.
Having reached the pinnacle of weightlifting on a National and continental level, he competed again in powerlifting and shocked the world by winning the ADFPA U.S. National Powerlifting Championships in 1995 with a 2314.8 lb (1052kg) raw Powerlifting Total. Despite competing without supportive equipment in contrast to the other competitors, Henry managed to outclass the lifter in second place by 286lbs (130kg) defeating not only 5 time IPF World Powerlifting Champion and 12 time USAPL National Powerlifting Champion Brad Gillingham, but also America's Strongest Man of 1997 Mark Philippi. In the process he set all-time world records in the raw deadlift at 903.9 lbs (410.8 kg) and the squat (without a squat suit) at 948.0 lbs (431 kg) as well as the all-time drug tested raw total at 2314.8 lb (1052 kg). Later that same year in October, he competed in the drug-free Powerlifting World Championships and won again, even though he trained on the powerlifts only sparingly—due his main focus still being on the two Olympic lifts. He not only become World Champion by winning the competition but also bettered his previous all-time squat world record to 953.5 lbs (433.5 kg) and his all-time drug tested world record total to 2336.9 lbs (1062.2kg)
In 1996 Henry became the North America, Central America, Caribbean Islands (NACAC) Champion. He earned the right to compete at the Olympics by winning the U.S. National Weightlifting Championships in the Spring of 1996 for a third time. During his victory Henry became Senior US American record holder (1993–1997) in the Snatch at 180.0 kg (396.8 lbs), Clean and jerk at 220.0 kg (485.0 lbs), and Total at 400.0 kg (881.8 lbs), improving all of his three previous personal bests. This 400 kg total, in the opinion of many experts in track field of international lifting—including Dragomir Cioroslan, the 1996 coach of the U.S. team—was the highest ever made by an athlete who had never used anabolic steroids & who was lifetime drugfree.
By that time, at the age of 24, Henry was generally acknowledged as the strongest man in the world, even by many of the Eastern Block athletes who outranked him in weightlifting. No one in the history of the sports had ever lifted as much as him in the five competitive lifts—the snatch and the clean and jerk in weightlifting—the squat, bench press and deadlift in powerlifting.
To this day, his five lift total is still the greatest in history by a fair amount—making him arguably one of the strongest men that ever lived and stamp him, according to lifting statistician Herb Glossbrenner, as history's greatest lifter.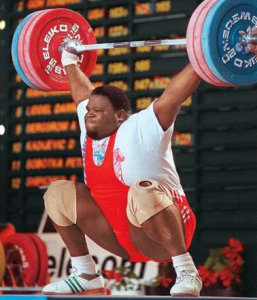 5. Eddie Hall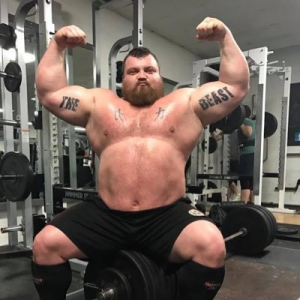 Another well-known face on this list in Eddie Hall. The 6'3 English strongman from Staffordshire has been around for a few years, slowly improving over that time.
Hall is multiple UK's, Britain's & England's Strongest Man, current Worlds Strongest Man and current World Record holder for the deadlift with straps (500kg / 1100lbs) and overhead axle press (216kg / 475.2lbs).
Eddie Hall was a British champion swimmer growing up, becoming national champion in breaststroke. He always had a large, muscular physique – 14.5 stone (203lbs / 92.3kg) at age 14.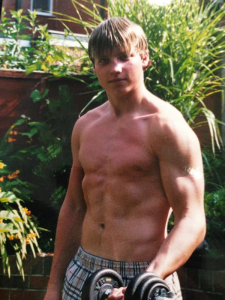 Competing at the World Deadlift Championship in July 2016 Hall attempted to break the existing 465kgs record that he and two others set that weekend with an incredible 500kgs deadlift.
The Newcastle-under-Lyme born strongman thus became the first man to lift half a tonne – equating to 1,100lbs or 80st – at the First Direct Arena in Leeds, but he immediately collapsed afterwards and revealed that he had burst blood vessels in his head.
"That nearly killed me," Hall said in a video chat for the Yorkshire Evening Post afterwards. "The pressure on my body was surreal. I passed out after. I had nose bleeds. It's not healthy doing something like that.
"But I've done it. I'm sure it will be in the history books for a very long time."
Hall won the Worlds Strongest Man title Botswana this year (apologies for the Christmas viewing spoiler), becoming the first British man to do so since Gary Taylor in 1993. He has since retired from Worlds Strongest Man, stating that he wanted to lose weight, get in better shape and look after his health. Hall had to sleep with an oxygen mask due to Sleep Apnea, caused by his excessive weight.
Although best known for his deadlift, Hall is a static allrounder – with arguably the strongest shoulders / triceps in the world. Some of his best other lifts are:
405kg (891lb) Squat
300kg (660lb) Benchpress
211kg (464lb) Strict Log Press
Hall is not generally regarded as the strongest 'strongman' in history, but I believe this is mainly due to his sluggish manoeuvrability. Statically (which is what I believe true strength to be) I don't think there's another 'strongman' who's better.
4. Angus MacAskill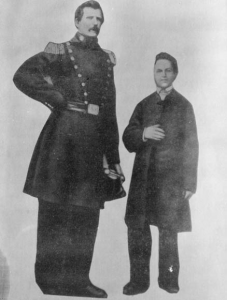 Angus MacAskill was born on the Isle of Berneray, Scotland in 1825. He was a true legend of a man, standing 7ft 9in and weighing between 425lbs (193.2kg) in early adulthood to, some claim, 580lbs (263.6kg). There are some changing accounts, but factually he was the tallest Scotsman ever to have lived, and the tallest recorded 'true giant'.
The distinction of his status as a 'true giant' hinges on the fact that Angus was purported to be free of any growth abnormalities. His stature was proportional in every way and his immense size and strength was due only to his natural genetic gifts.
A record breaker on multiple counts, MacAskill had 12 siblings, and average sized parents. He, himself was an average sized baby, and was said to even be so small as a baby that he wasn't expected to survive. MacAskill added most of his size during his teenage years, and by his early 20s has become renowned for his feats of strength, becoming known as 'Gille Mor', the 'Cape Breton Giant', or ''Giant MacAskill'.
To put his size into numbers; by age 20 he had reached 7ft 4in (2.24 m), eventually reaching 7ft 9in (2.36 m) within another year or two. His early adult weight was 425lbs (193kg). His shoulders were 44 inches (110cm) wide, and the palm of his hand 8 inches (20cm) wide and 12 inches (30cm) long; his wrists were 13.5 inches (34cm) in circumference; his ankles measured 18 inches (46cm) in circumference; by 1863 he was wearing boots 17.5 inches (44cm) long. His feet were probably around 16 inches long and 8 inches wide.
Some of the stories about him, inevitably, grew in the telling, and today it is difficult to know what he was actually capable of. Some accounts say that he could lift a ship's anchor weighing 2,800 pounds (1300kg) to chest height, and had an ability to carry barrels weighing over 350 pounds (160kg) apiece under each arm or could reputedly lift a hundredweight (50kg / 110lbs) with two fingers and hold it at arms length for ten minutes. People also claimed to see Angus lift a full-grown horse over a 4-foot (1.2 m) fence, 'without breaking a sweat'.
In 1849 he entered show business and went to work for P.T. Barnum's circus, appearing next to General Tom Thumb. In 1853 he toured the West Indies and Cuba. Queen Victoria heard stories about MacAskill's great strength and invited him to appear before her to give a demonstration at Windsor Castle, after which she proclaimed him to be "the tallest, stoutest and strongest man to ever enter the palace", and presented him with two gold rings in appreciation.
There are also various accounts of an incident with an anchor that may have taken place in New York or New Orleans – accounts differ. Angus MacAskill was challenged by some French sailors to lift an anchor on the harbourside. It has since been estimated that this weighed between 2,200lbs (1,000kg) and 2,700lbs (1,227.5kg). He lifted the anchor successfully, but as he dropped it he was seriously injured by one of its flukes.
MacAskill retired to St Anne's, Nova Skotia, by now a wealthy man, and he settled down to run his business investments. However at the beginning of August 1863 he suddenly fell ill with what was described as "brain fever", and he died on 8 August.
If all of Angus MacAskill's feats of strength could be verified, he would without much doubt be considered one of the strongest men, possibly the strongest, ever. However there is doubt, and stories linked to legends like this tend to be exaggerated, sometimes greatly. Even so, to reach this level of notoriety we must believe that he had an immense level of strength, no matter what the numbers.
3. Louis Cyr
Louis Cyr (born 10th October 1863, died 10th November 1912), was a French Canadian strongman, and is another man on this list thought of by some as the 'Strongest man to ever live' (including International Federation of Bodybuilding & Fitness [IFBF] chairman, Ben Weider).
Cyr came from a strong family, his mother weighed over 250lbs (113.5kg), and was over 6ft tall. She routinely climbed ladders carrying two 200lb (91kg) bags of flour, one on each shoulder. And worked as a bouncer in her husbands tavern.
Louis Cyr first came to notoriety in 1881, aged 18, at the annual Boston Strongman competition. The designated test had already been failed by two of the strongest men in the state – to lift a Percheron horse off the ground. The Percheron breed is one of the largest, most muscled breeds in the world, and can weight up to 2600lbs (1182kg).
The audience laughed as he approached the animal, but were soon quietened as he lifted the horse clean off the ground, onto his shoulders.
Whilst still a young man, Cyr met his wife and, keen to support his family, was persuaded by a dubious character called MacSohmer to travel and show off his strength feats. MacSohmer kept most of the money however, and Cyr was living a poor lifestyle. This changed when MacSohmer pushed too far, Cyr didn't show up for a sell-out show. MacSohmer found Cyr's dressing room empty, and the proceeds from the ticket sales gone. Cyr had checked out of the hotel, leaving his boss to pay the bill.
Some of Cyrs notable lifts include;
One-handed dumbbell deadlift with 525lbs (238kg), with the dumbbell handle 1.5 inches thick.
Lifting 553lbs (251.5kg) with one finger
Using one hand and thigh, lifted 987lbs (448kg).
Using two hands and thighs, lifted 1897.25lbs (862.5kg).
273lb (124kg) single arm bent press (like an overhead dumbbell press) – again with a handle 1.5 inches thick.
4337lbs (1971.5kg) back lift. (18 men) (official)
Holding back four, 1200lb (545.5kg) horses (two in each hand), as they pulled in opposite directions. The picture demonstrates the technique – obviously with only two horses here;

In his later life, Cyr became a policeman in the Montreal Constabulary. On one particularly eventful night, him and four of his colleagues were attacked by a large group of males. As the other four battled and arrested some suspects, Cyr took on 12 men and defeated them by 'picking up his adversaries and using them as human missiles and battering rams'.
Cyr travelled to Europe, and performed for royalty (including Queen Victoria), and became a favourite. Sadly though, his health started to deteriorate in his late 30's and for the last 12 years of his life lived on a diet of only milk.
An examination of Cyrs family who manifested great strength showed an 'autosomal dominant pattern of transmission', meaning the strength gene was carried and passed by the females in his family. Cyrs daughter, Emiliana could reportedly lift 340lbs (154.5kg) at the age of eight.
One of Cyrs lasting legacies is the 'Cyr Dumbbell', the 1.5 inch thick handle, with two large spherical weights is still considered one of the most difficult weights to pick up and press to this day.
It weighed "only" 202lbs (92kg) empty but it could be loaded with lead shot to over 270lbs (120kg)
Due to the time period Cyr lived in, some of these numbers must also be taken with a pinch of salt, most however are verified.
2. Victor DeLamarre
This French Canadian strongman was born in 24th September 1888, in Quebec Canada. Even though he wasn't a large man – standing 5ft 4in – 5ft 5½in (depending who you believe), and weighing 150lbs (68kg), his feats of strength were legendary. Whilst working as a policeman, like his idol at the time – Louis Cyr, he amazed crowds of people by climbing a ladder whilst carrying a horse in a sling, or bending a quarter (coin) between his thumb and forefinger.
DeLamarre is maybe best known for bent pressing 309.5lbs (140.7kg) in a theatre in Montreal, breaking Louis Cys's world record, and setting a new one.
This deceptively strong man had 12 siblings, and even as a young boy Victor excelled in various sports, including weightlifting, boxing and wrestling. The "Canadian Samson" developed much of his strength while working on a farm as a lumberjack, as soon as he turned 13. At that time he was simply lifting anything he could get his hands on, including his own uncle who weighed 150lbs (68kg). throughout his long and colourful career, DeLamarre lifted cars, horses, groups of people and even statues.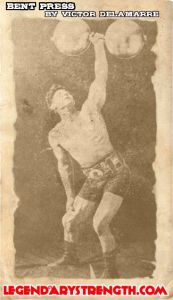 When he was in his 20's, DeLamarre moved to Montreal where he met several strongmen, including his idol Louis Cyr. He managed to join the police even though he was considered too short and small to fulfil their requirements. But they knew he was as strong as a bull.
Some people would say that despite his small frame, Victor DeLamarre was stronger than his idol, Louis Cyr. This doesn't come as a surprise, especially when you consider that Victor DeLamarre broke four records in 1914 with that one 309.5lbs (140.7kg) bent press;
The heaviest bent press in history
Lifted more as a middleweight that any other heavyweight
Defeated Louis Cyr's World Record of 273lbs (124kg) bent press
Lifted twice his bodyweight overhead using just one hand, using this dummbell;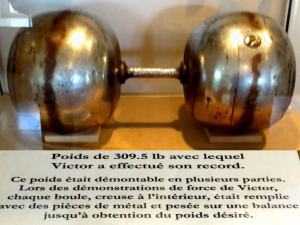 Other notable lifts of DeLamarres include a clean & jerk of 201.5lbs (91.5kg), with one finger, and a back lift of 7000lbs (3182kg) with 65 people standing on a platform.
The Canadian Samson died in Quebec City after succumbing to a serious illness.
After his death on 13th March 1955, his autopsy revealed that he possessed double tendons, and a four inch thick spine – double that of most men. No wonder some experts even believed that he had more stamina and overall strength than his hero, Cyr.
1. Paul Anderson
Born in Tocca, Georgia USA on October 17th 1932, Paul Anderson lived a pretty unremarkable life growing up. Taking part in US high school sports such as [American] football. He was quick and agile for a 19 year old, 5ft 10in man weighing 275lbs (125kg / 19 stone 8lbs), but no-one had any idea he would go on to be referred to by some as "The Strongest Man Alive". That is until February 1952, when he went into world-renowned lifter, Bob Peeples' weight room. Without any warm-ups, without any supportive equipment (belt / wraps etc.), and wearing just his normal shoes, he squatted 550lbs (250kg). At the time the world record for squat was 575lbs (261.5kg)…. and Paul Anderson did 2 reps….
Bob Peeples tells the story himself here:
Just a few months later, at 20 years old, Anderson competed at his first strength competition, squatting 605lbs (275kg), 635lbs (288.5kg) and 650lbs (295.5kg) – breaking a squat word record with his opener that had stood for over 30 years.
Back in the 50's & 60's training was crude, and Anderson didn't have access to the weights we think of now. He trained at home with home-made equipment including barrels filled with concrete, iron wheels and a 3500lb (1591kg) safe. He believed that the squat was the key to increasing full body strength, and we still use the "Anderson Squat" in training programmes now. You may be more familiar with it by the name 'Pin Squat'.
Slightly different to the modern version, the Anderson Squat starts at the bottom and the weight is raised up. Due to the lack of racks able to hold the weights he was using, particularly adjustable ones, Anderson dug a hole in his yard and stood in it. With the ground around him holding the weight, he would then stand up with it – adding dirt to the hole would raise him up (effectively lowering the bar), enabling him to train through partial reps.
At the Mapes Casino, Anderson reportedly performed several squats each day with 1,160lbs (527kg) on a specially made barbell device. It consisted of a bar with two boxes that looked like safes, but had glass walls. The hook in the act was that the ends of the device were filled with 15,000 silver dollars, a site familiar to casino habitués and residents of Western silver states going back to the days of William Jennings Bryan and his 1896 campaign for the free coinage of silver.
An article examining whether this could, or could not have happened is here:
https://breakingmuscle.com/fitness/andersons-1200lb-squat-did-he-do-it
Anderson also reportedly squatted 800lbs (363.5kg) for 10 easy reps.
Anderson went on to become an Olympic weight-lifter, and won gold at the 1956 Olympics in Melbourne, despite being ill and having an ear infection.
All this squat and leg work eventually led to the lift that he's most well known for – the backlift. On June 12th 1957 Anderson completed what has been called the greatest lift of all time, and is still unofficially the most weight that any human being has ever lifted off the ground – 6270lbs (2850kg). The backlift is like a pin squat, starting in a squat position the weight is supported across the whole back on, in this case, trestles. It is then lifted and held. This lift was added to the Guinness Book of World Records in 1957, but later taken out due to the low number of people who viewed it, and the weight not being able to verified 100%.
The entry stated:
"Greatest Lift. The greatest weight ever raised by a human being is 6270lbs. In a back lift (weight lifted off trestles) by 364lb Paul Anderson (U.S) (b. 1932), the 1956 Olympic heavyweight champion, at Toccoa, Georgia, on June 12, 1957."
In just four years Anderson became a World Champion, Olympic Champion, two-time US National Champion, set 18 American Records and 8 World Records.
A nice article for further reading on Paul Anderson can be found here:
http://library.la84.org/SportsLibrary/IGH/IGH0701/IGH0701e.pdf
Anderson sadly died aged 61 in 1994 of complications from kidney disease, but will always be remembered by a lot of people as the strongest person ever to have lived.
Due to the immense weights lifted, the crude training methods, and the public nature of his performances – I have to agree.
https://barbend.com/yury-belkin-440kg-deadlift/
https://en.wikipedia.org/wiki/Angus_MacAskill
https://www.google.co.uk/amp/s/barbend.com/how-paul-anderson-became-one-of-historys-strongest-humans/amp/
https://en.m.wikipedia.org/wiki/Louis_Cyr
https://lifeasahuman.com/louis-cyr-the-strongest-man-in-history/
https://en.m.wikipedia.org/wiki/Percheron
https://www.therichest.com/rich-list/the-biggest/the-10-strongest-men-of-all-time/
https://en.m.wikipedia.org/wiki/Kirill_Sarychev
https://en.wikipedia.org/wiki/Mark_Henry
https://everipedia.org/wiki/ray-ray-ray-orlando-williams/
https://en.wikipedia.org/wiki/Eddie_Hall
http://www.mirror.co.uk/sport/other-sports/eddie-hall-worlds-strongest-man-10520711
https://twitter.com/eddiehallWSM?lang=en
http://usawa.com/louie-cyrs-dumbbell/
https://www.facebook.com/belkinlifter
http://usapl.liftingdatabase.com/lifters-view?id=1796
http://goodlift.info/lifter.php?lid=8770
https://barbend.com/joseph-pena-1005-pound-squat/
http://www.criticalbench.com/Mark-Henry.htm
http://bleacherreport.com/articles/869668-wwe-8-things-you-may-not-know-about-the-worlds-strongest-champion-mark-henry